One Day in Venezia.com Photo Contest: your chance to win a fabulous vacation in Venice and your solo show
One Day In Venezia photocontest
Enter the monthly photo contest giving you the opportunity to win a luxury vacation for two in Venice, and your personal show in an art gallery. Every day you can participate, and let others know your work! The  OneDayInVenezia.com Photo Contest is open to amateur and aspiring photographers.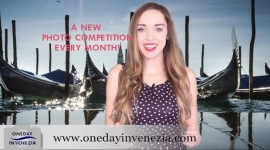 OneDayInVenezia.com , at its second edition, is dedicated to Venice and is made up of 12 monthly photography contests, expiring the 24th of each month.
The ending month of the contest (September) the contest is exceptionally closing on day 30th, so 30 September 2018 for its 3rd edition.
The photos' theme: "A day in Venice: the city through your eyes!"
Every day this very special international photocontest can be entered by aspiring photographers, with pics shot in any year or season. The contest awards monthly winners and a final Grand Winner: two days in Venice and solo show in a renowned art gallery. ALL entered photos receive exposure in one of the major art galleries in Venice, Giudecca 795 Art Gallery whose mission is promoting new talents.At the end of the contest, not only the finalists but every photo submitted during the year will be reviewed again by the jury and will have the opportunity to win a special prize. The earlier the submission, the better your chances.
The monthly winner is awarded:
a fine art print of his work, the publication in a calendar, a professional critic review, the free participation to the finalists' group show, and is nominated for the Grand Final Prize. Some extra special prizes will also be awarded.
The Grand Winner:
will be chosen among the finalists, and will be awarded: own solo show and a 5 stars weekend in Venezia for two people (with the collaboration of Hotel Metropole, Hilton Molino Stucky Venice, Cipriani Harry's Bar Venezia, Gran Caffè Quadri Alajmo, Ristorante da Ivo, Consorzio Venice Water Taxi).
The two-night stay is offered by Hotel Papadopoli Venice by Sofitel MGallery (dates to be agreed upon availability). Aperitifs, lunches, dinners, gondola tour are making up a great program!
The solo show is hosted by the Giudecca 795 Art Gallery.
The Grand Winner will be able to decide whether to give others his/her vacation, whilst the right to the show cannot be exchanged.
How to enter the contest? Online only, at www.onedayinvenezia.com
The registration fee (10 euros) allows submitting one photo of Venice as jpg file, to be uploaded on the website. Additional pictures can be submitted at 5 euro fee each (photos are uploaded one by one in a guided procedure). This symbolic contribute to the organization allows us to be independent.
Annik Susemihl (Germany) Grand Winner of the 1st edition 2015-2016 and
Tatiana Lazareva (Russia) Grand Winner of the 2nd edition 2016-2017
have already been our guests in Venice.
"One of the greatest things that happened to me in 2017 was gran prix, which one of my picture received in second edition of One Day In Venezia photo contest. I was informed about it in November, and in December I already went to Venice to get the certificate and special prizes. First, I want to say huge thanks to Rosalba Giorcelly and her Giudecca 795 Art Gallery for warm welcome, her help and our small but great meeting where she gave me the winner certificate. We had some other great prizes: staying at Metropol Hotel, beautiful hotel in Venetian style which is located in the heart of Venice – just a few steps from San Marco square. Our room looked out over the lagoon. Da Ivo Restaurant prepared for us a delicious dinner, we had an aperitif in historic Quadri Café on San Marco square. Chiara gave us a gondola tour, she told us a lot of stories and legends about Venice, bridges, buildings, and boats. And her singing is amazing! Her voice is beautiful, especially to the accompaniment of splashes of water. It was not just gondola tour, it was a small great opera concert. Unfortunately, we didn't have enough time to use other two invitations, to Harry's bar and Theatre La Fenice. But we will be back! We're going to go back, because Venice is peculiar, enchanting place, and because Giudecca 795 Art Gallery presented me the personal exhibition. I'm already collecting my works for it! Monthly winners have been exhibited at the Hilton Molino Stucky Hotel. If you have pictures of Venice, don't wait! Just apply your pictures to the third edition of One Day In Venezia photo contest. Good luck! by Tatiana"
Enter the 3rd edition: it is the right time!
https://www.onedayinvenezia.com
Info, web and contact form: http://www.onedayinvenezia.com
Facebook: https://www.facebook.com/OneDayInVenezia/
Twitter: https://www.twitter.com/OneDayInVenezia
…………………………………………………………………………………………………………..
For more information:
– website: http://www.onedayinvenezia.com/
– registration: http://www.onedayinvenezia.com/en/the-contest/
– partners: http://www.onedayinvenezia.com/partners/
– presentation video:
2017 – https://www.youtube.com/watch?v=uTrlyMwkgZ0
2016 – https://www.youtube.com/watch?v=R2qwRwVuP84